Essential Oils 101!

My journey started with essential oils at a vendor fair when the wellness advocate rubbed Deep Blue onto my shoulder and within minutes the discomfort was gone. I was intrigued and the rest is history!! I use essential oils daily to help boost my immune system and support my body in a natural way. I hope you find this online class helpful and informative as you enter this wonderful world of essential oils.
---
The dōTERRA Difference
Our Certified Pure Therapeutic Grade - CPTG® essential oils contain no fillers or artificial ingredients that would dilute their active qualities. They are free of contaminants and other toxic, chemical residues.
While many oils claim to be therapeutic grade, few are subjected to rigorous testing standards for chemical composition, purity, and potency like ours. We work closely with leading chemists and growers to select botanicals of the correct species, grown in ideal environments, and carefully harvested at the right time. They are the safest and most beneficial oils available in the world today.
---
What Are Essential Oils?
Naturally occurring volatile aromatic compounds

Founds in seeds, bark, stem, roots, flowers, and other parts of plants

Protect plants against environmental threats and provide beneficial properties

Highly concentrated when distilled for purity, potency, and efficacy

Used historically for food preparation, beauty treatment, and health-care practices

50-70 times MORE powerful than herbs
---
Empowering Solutions
Provide health-conscious individuals with a safe and natural alternative

Used for a wide range of emotional and physical wellness applications

Have few, if any, undesirable side effects when used as directed

One drop is all that is needed to achieve a powerful effect
---
co-Impact Sourcing
Cultivates partnerships with artisans, small-scale growers, and distilleries.

Organizes growers into cooperatives, creating jobs & improving income.

Establishes stable pricing with a trustworthy, long-term buyer.

Empowers growers, families, and communities in impoverished nations.
---
How Do I Use Essential Oils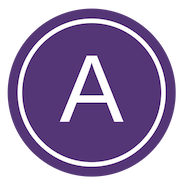 Aromatically
Essential oils can be very stimulating, calming, or soothing when diffused or inhaled. They cleanse and purify the air and help maintain a healthy airway.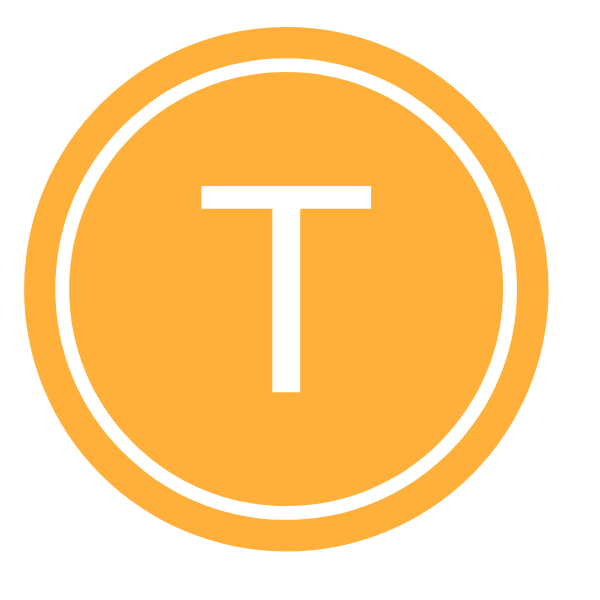 Topically
Essential oils can be safely applied to the skin and diluted with a carrier oil. Absorption into the skin is within 30 seconds.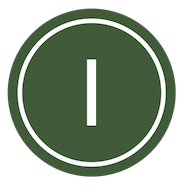 Internally
dōTERRA's essential oils can be consumed as a dietary supplement for targeted wellness. You will see a "Supplement Fact" on the label for those oils that are safe to ingest.
---
Establish A Foundation for Optimal Health
Lifelong Vitality® essential oil supplements are formulated with potent levels of essential nutrients & powerful metabolic factors for optimal health, energy & longevity. They naturally support a lifetime of looking, feeling, and living younger, longer. And the come with a 30-day GUARANTEE!
You can customize with other supportive supplements for only $20 each:
Mito2Max® - Energy & Stamina

Deep Blue® Polyphenol - Aches & Pains

TerraZyme® - Digestion & Metabolism

PB Assist® - Pre and Probiotic
---
Lemon
One of my favorites, this essential oil powerhouse is cold-pressed from lemon rinds to preserve its delicate nature and potent properties. Lemon is known as a powerful aromatic, topical, and internal cleanser that can be used to complement many other oils. Diffusing lemon in a room can cleanse the air and uplift the mood. It can also be used on surfaces throughout the home as a non-toxic cleaning booster. For aromatic, topical, or dietary use.
Cleanses and purifies the air and surfaces

Naturally cleanses the body and aids in digestion

Supports healthy respiratory function

Natural insect repellant

Promotes a positive mood and cognitive ability

Helps ward off free radicals with its antioxidant benefits

Apply to the sticky residue to remove the goo

Removes a permanent marker from objects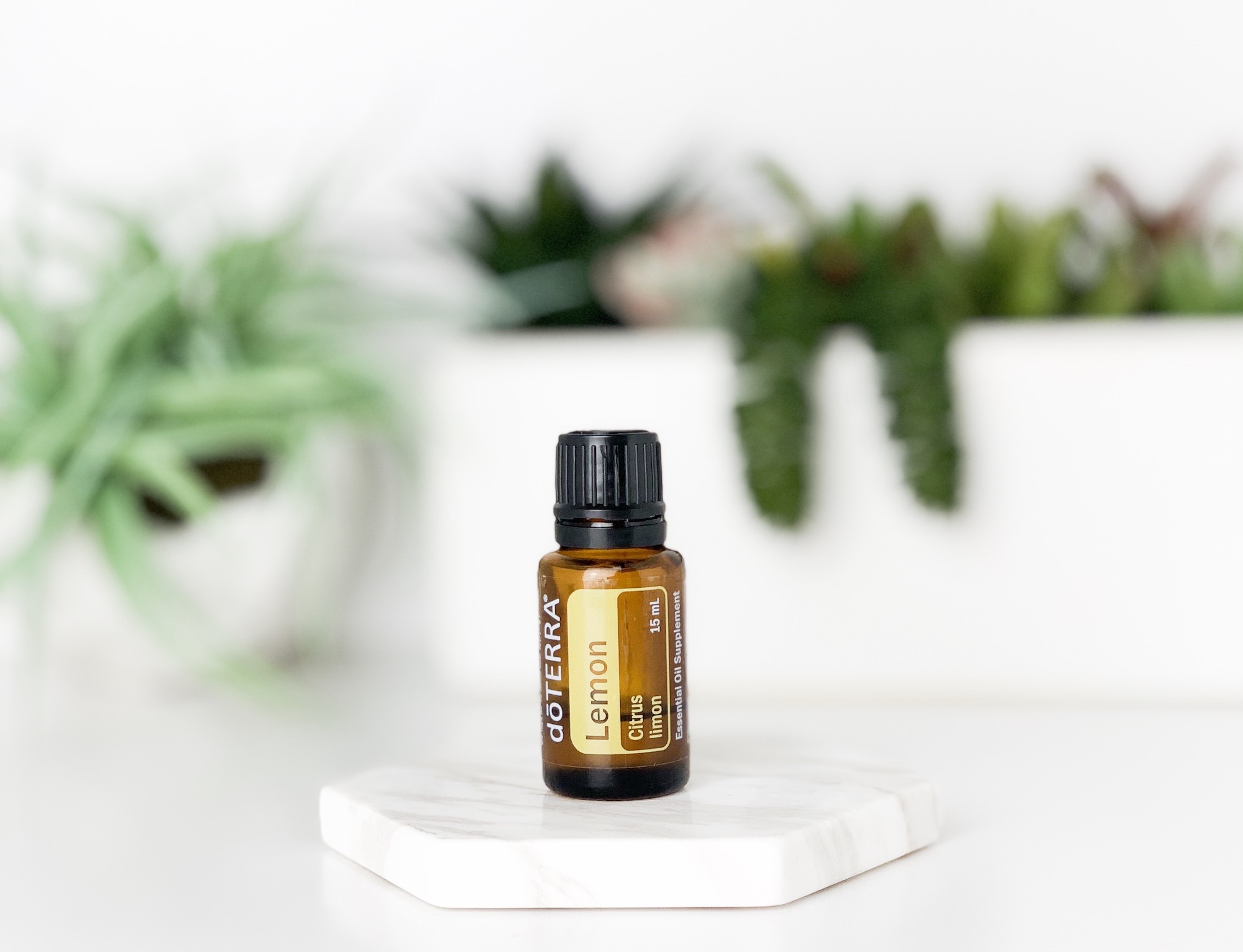 ---
Lavender
Our most popular oil, lavender has been cherished for its unmistakable aroma and its therapeutic properties for thousands of years. Lavender is widely used and accepted for its calming and relaxing qualities. For topical, aromatic, or dietary use.
Widely used for its calming and relaxing qualities

Soothes occasional skin irritations

Helps skin recover quickly

Eases muscle tension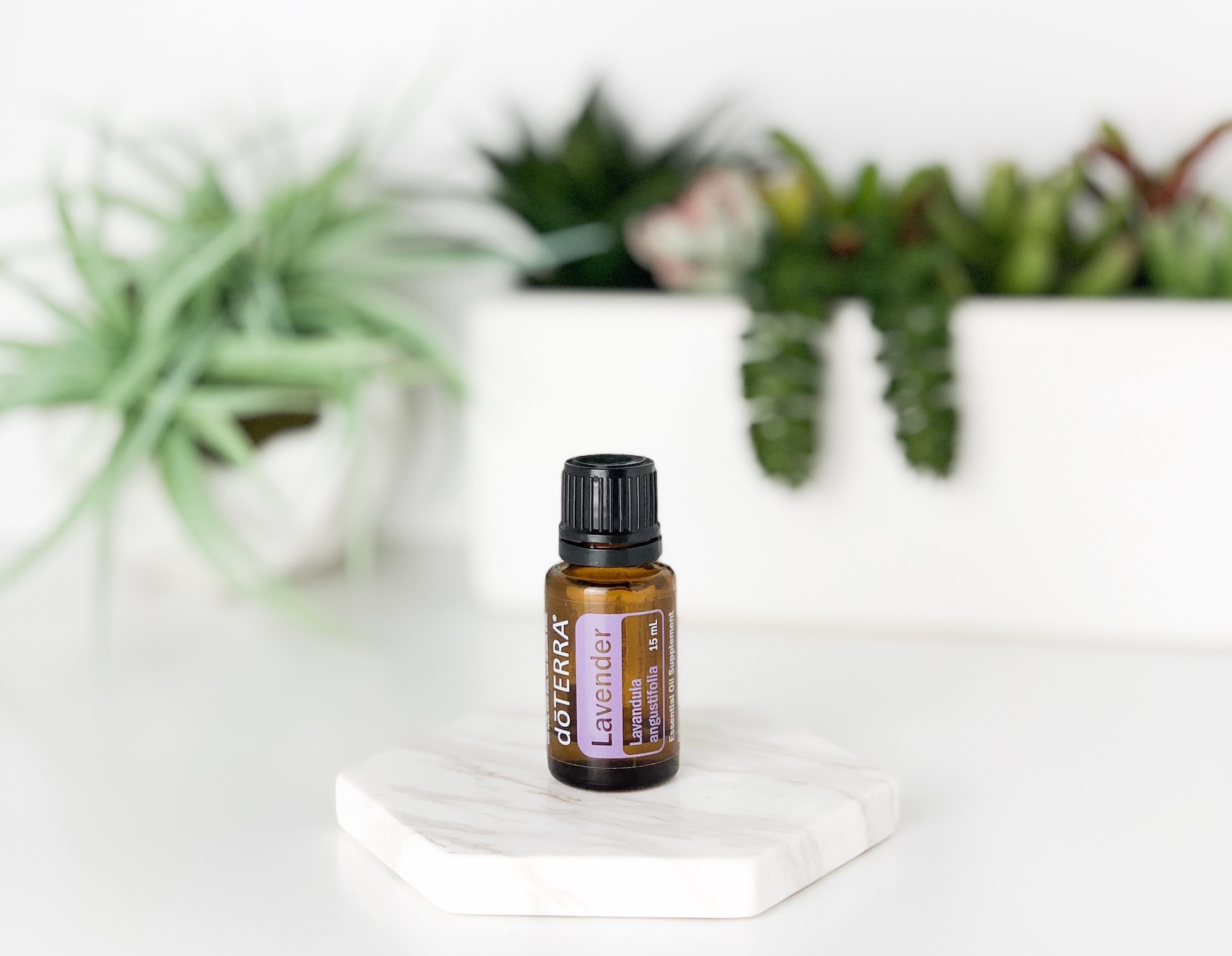 ---
Peppermint
Peppermint is popular in countless forms, from toothpaste to chewing gum. As an essential oil, it is useful to ease breathing and as a digestive aid. For aromatic, topical, or dietary use.
Promotes healthy respiratory function and clear breathing

Alleviates occasional stomach upset

Frequently used in toothpaste and chewing gum for oral health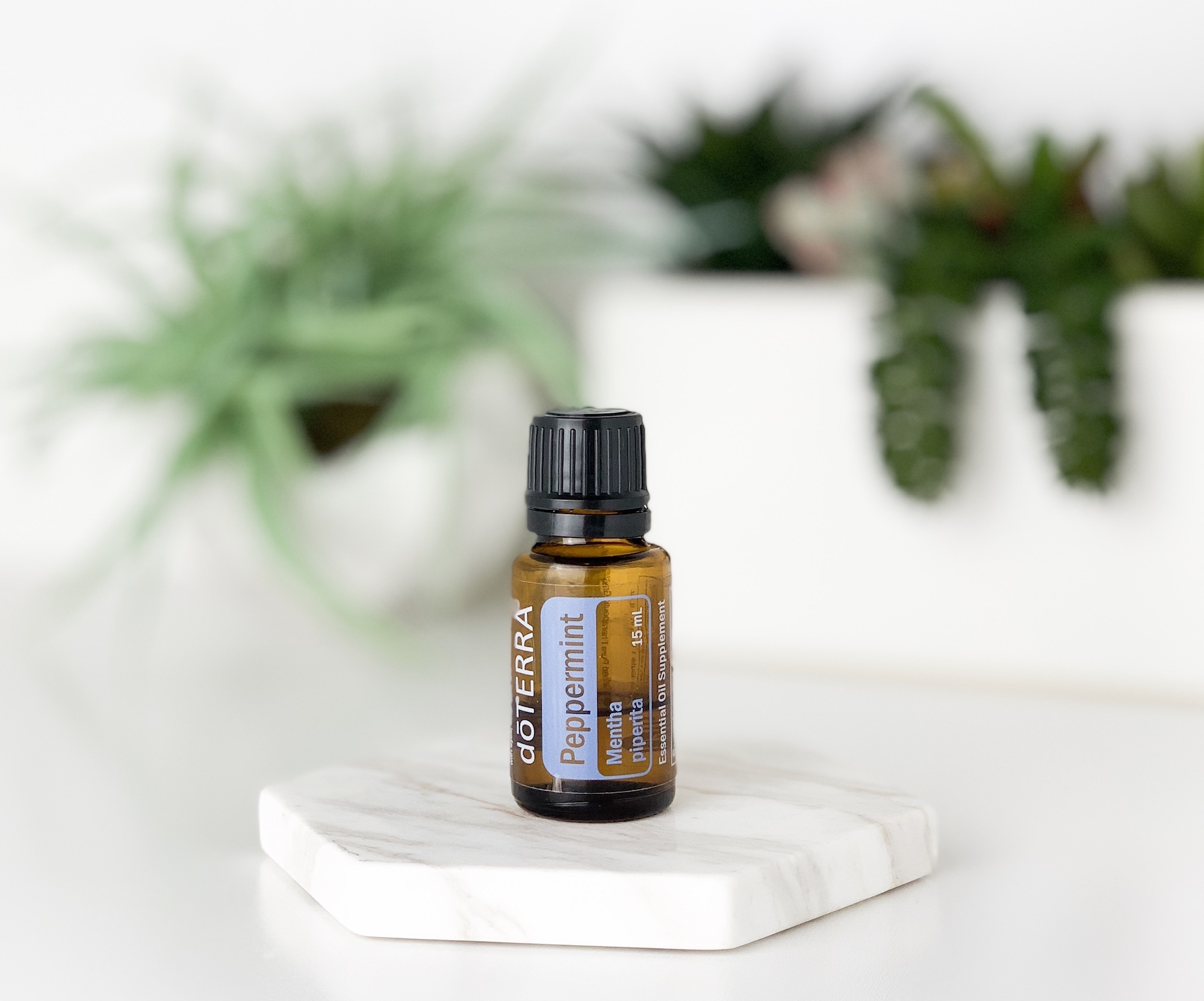 ---
Tea Tree Melaleuca
Recognized by its more common name "tea tree," Melaleuca has been revered for its cleansing and regenerative properties, especially for the skin. Composed of more than ninety different compounds, melaleuca has limitless therapeutic applications. For aromatic, internal, or dietary use.
Renowned for its cleansing and rejuvenating effect on the skin

Protects against environmental and seasonal threats

Promotes healthy immune function

Promotes a clear, healthy complexion

Soothes minor skin irritations

Helps purify and freshen the air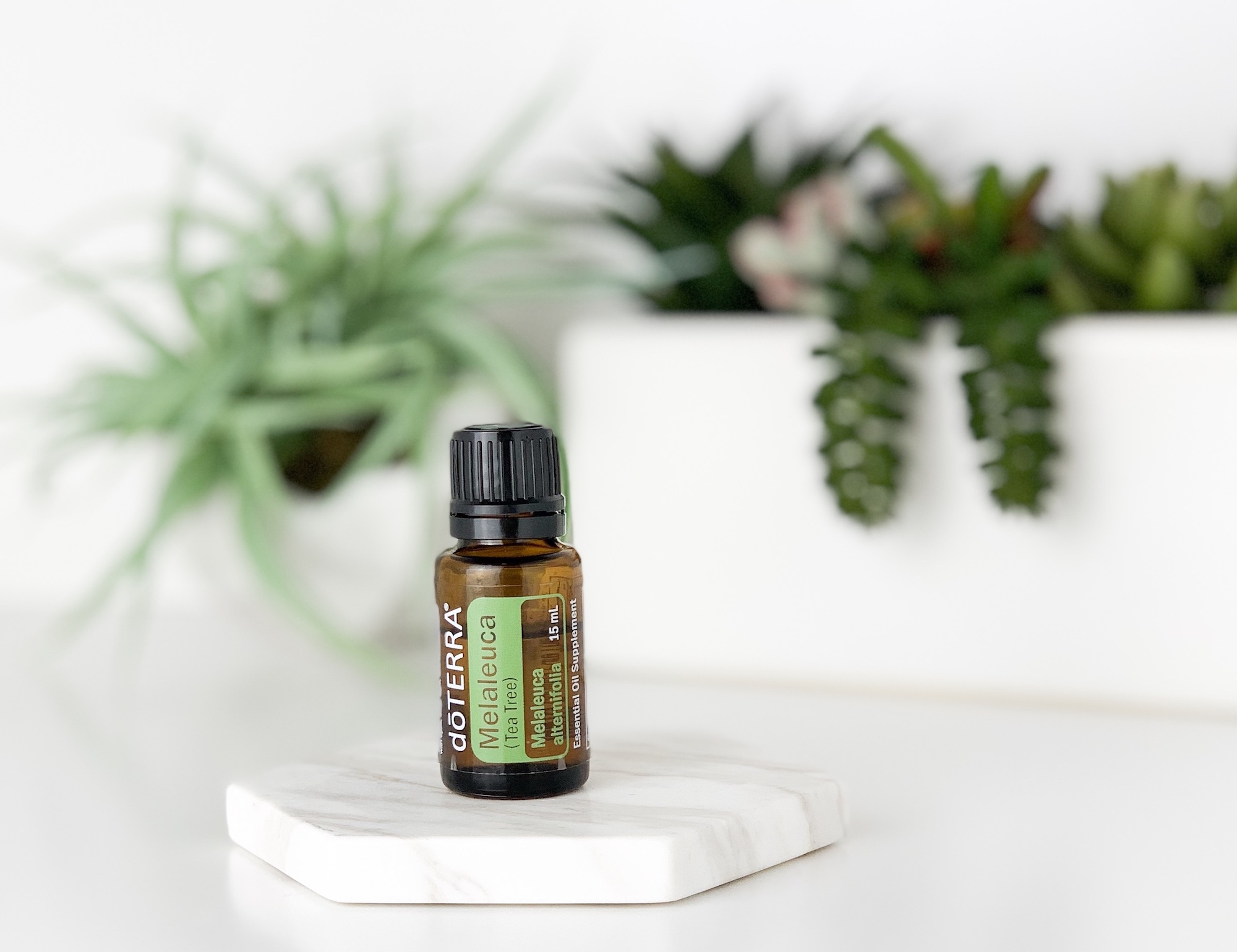 ---
Frankincense
Perhaps the most precious of the ancient oils, frankincense is highly sought after by modern consumers for its many uses, including relaxation, immune support, and mood enhancement. For aromatic, topical, and dietary use.
Reduces the appearance of blemishes and rejuvenates skin

Apply to the bottom of feet or use internally to support immune function

Promotes cellular health

Aids in emotional balance, immune support, nervous system support, and skin rejuvenator

Helps build and maintain a healthy immune system

Supports healthy immune system function
---
Oregano
Hippocrates, the father of medicine, used oregano as a cleansing agent as well as for digestive and respiratory support. High in antioxidant activity, oregano contains phenolic acids and flavanoids. For aromatic, topical (dilute), and dietary use.
Used as a powerful cleansing and purifying agent

Dilute (1:3) and apply to the bottom of feet of kids and adults as a natural defense

Provides immune-enhancing benefits

Supports healthy digestion and respiratory function

Excellence source of antioxidants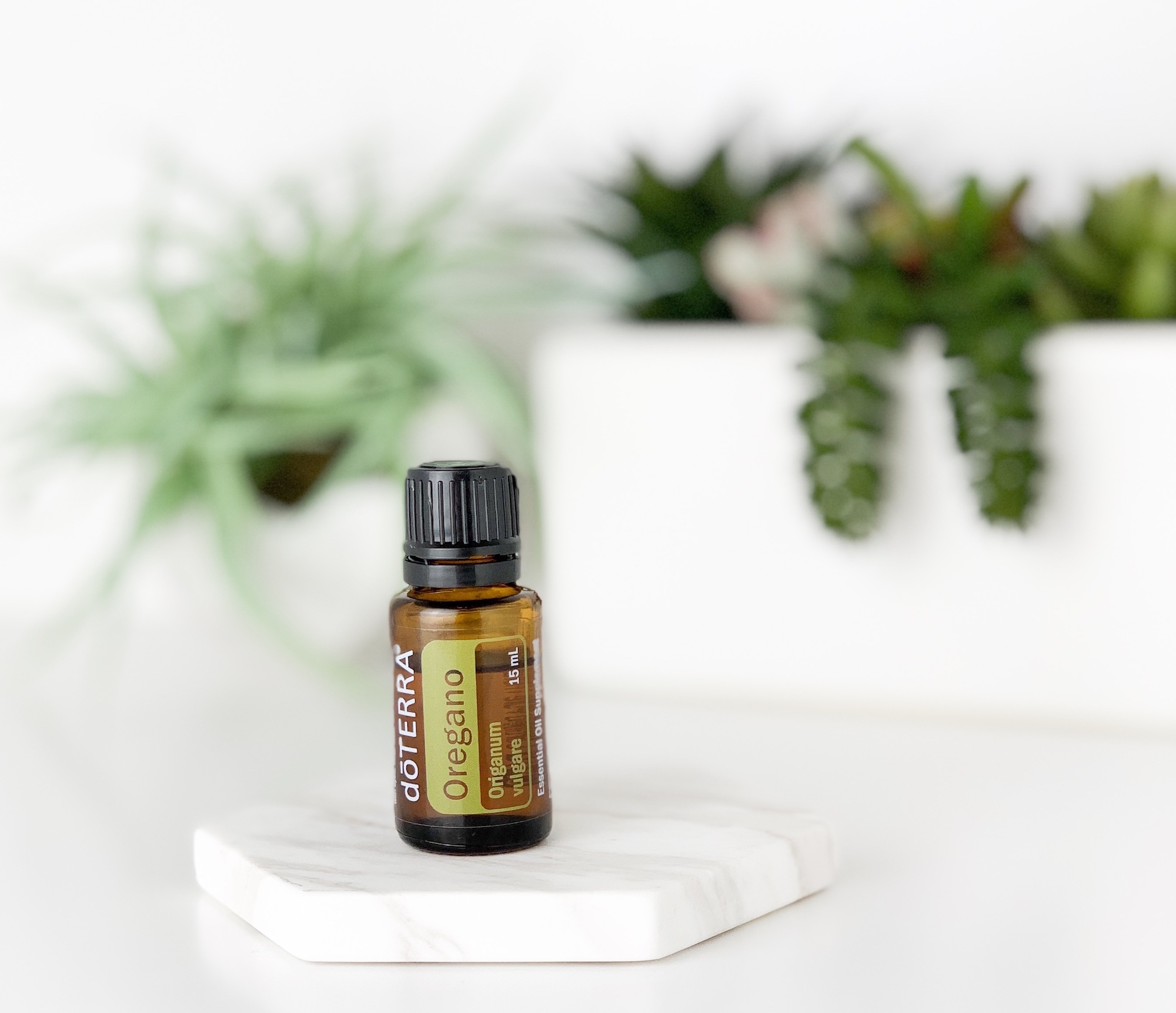 ---
OnGuard® Protective Blend
The Protective Blend is a unique, proprietary blend formulated to support healthy immune function. Wild orange essential oil, combined with clove, cinnamon, eucalyptus, and rosemary offer a fragrant, natural, and effective alternative to synthetic options for immune support. The Protective Blend has a unique aroma, is one of our most versatile blends. It is also safe to use on countertops, as a non-toxic way to cleanse surfaces, or to purify the atmosphere by diffusing. On Guard is superb for eliminating and controlling pathogens due to the potency of its constituents. For aromatic, topical, or dietary use.
Supports healthy immune function

Protects against environmental threats

Cleanses surfaces

Energizing and uplifting aroma

Purifies the skin while promoting healthy circulation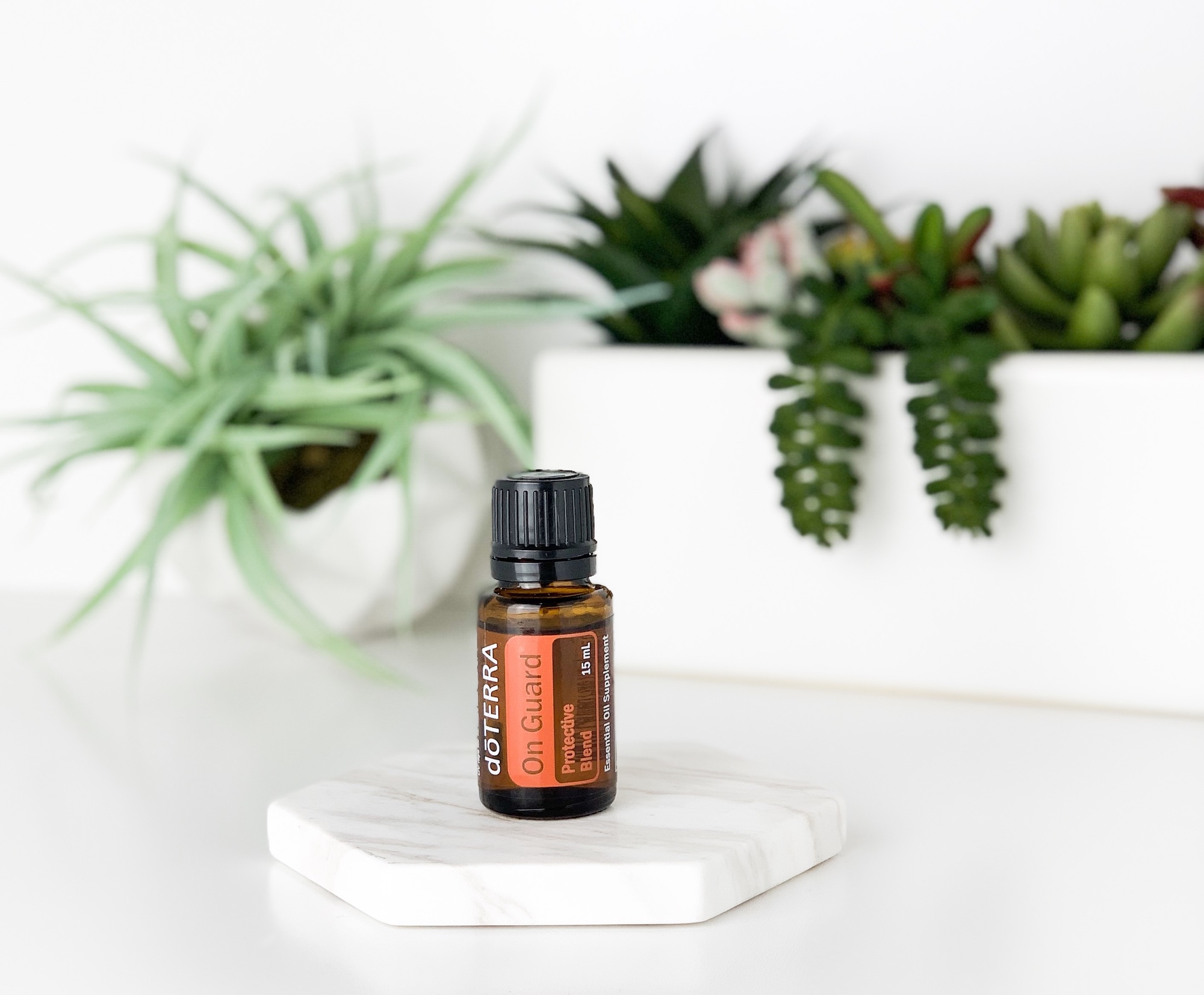 ---
Deep Blue® Soothing Blend
doTERRA Deep Blue is perfect for a soothing massage after a long day of work. Wintergreen, Camphor, Peppermint, Ylang Ylang, Helichrysum, Blue Tansy, Blue Chamomile, and Osmanthus work together to soothe and cool. After long hours on the computer, try rubbing Deep Blue proprietary blend on your fingers, wrists, shoulders, and neck. A few drops of Deep Blue Soothing Blend diluted in Fractionated Coconut Oil can be part of a cooling and comforting massage.
Apply on feet and knees before and after exercise.

Massage Deep Blue with a few drops of carrier oil onto growing kids' legs before bedtime.

Rub Deep Blue on lower back muscles after a day of heavy lifting at work or during a move.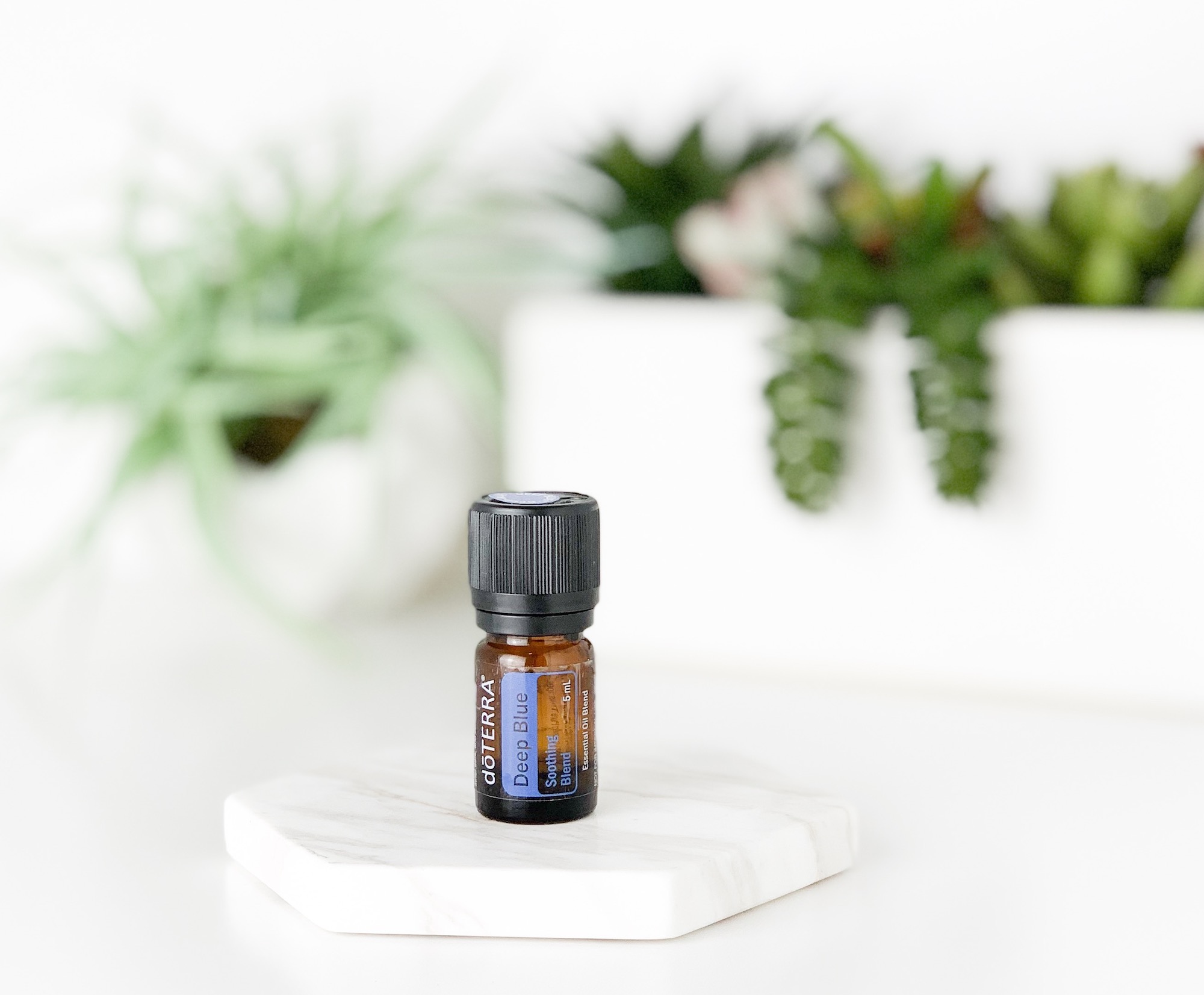 ---
Breathe® Respiratory Blend
Respiratory issues are prevalent in modern society, and essential oils are a perfect way to ease breathing consistently for a sustained benefit. This respiratory blend is a remarkable blend of certified pure therapeutic grade essential oils that combine to do just that, help you breathe easier. A proprietary blend including laurel leaf, peppermint, eucalyptus, tea tree, lemon, and ravensara cleanses and soothes the airways, and can easily be applied topically to the chest, back, or bottom of feet. Its pleasant aroma is calming to the senses and perfect for nighttime diffusion allowing for restful sleep. For aromatic or topical use.
Maintains clear airways and breathing

Supports overall respiratory health

Helps minimize the effects of seasonal threats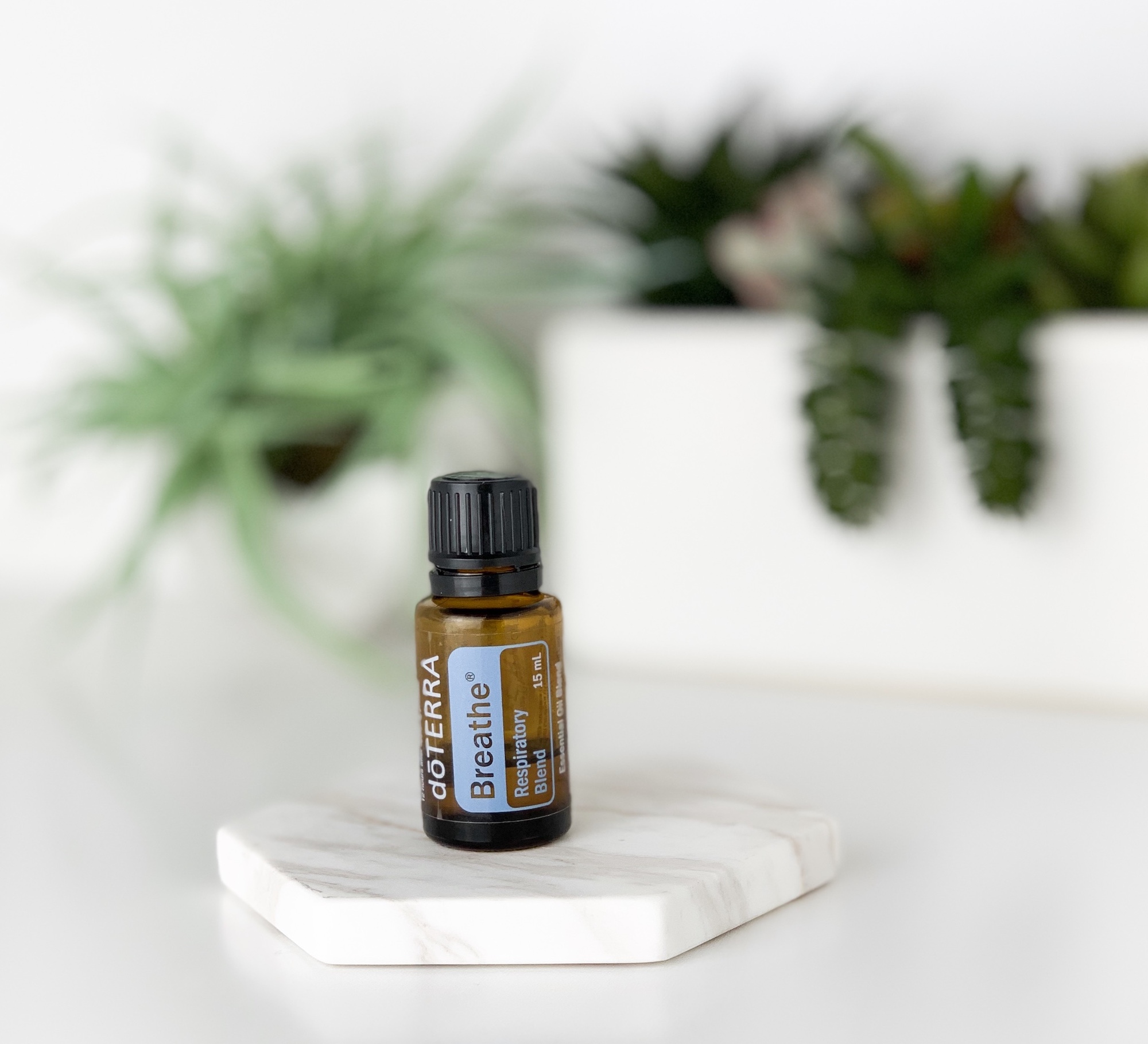 ---
DigestZen® Digestive Blend
Many essential oils have been recognized through research as powerful agents to help restore normal balance in the digestive system. The digestive blend takes advantage of these well-established therapeutic compounds in a proprietary blend of pure essential oils. Ginger, peppermint, tarragon, fennel, caraway, coriander, and anise each have specific attributes that add to the overall efficacy of this potent blend. When used internally, the digestive blend brings soothing digestive relief. For aromatic, topical, or dietary use.
Aids in the digestion of foods

Soothes occasional stomach upset

Maintains a healthy gastrointestinal tract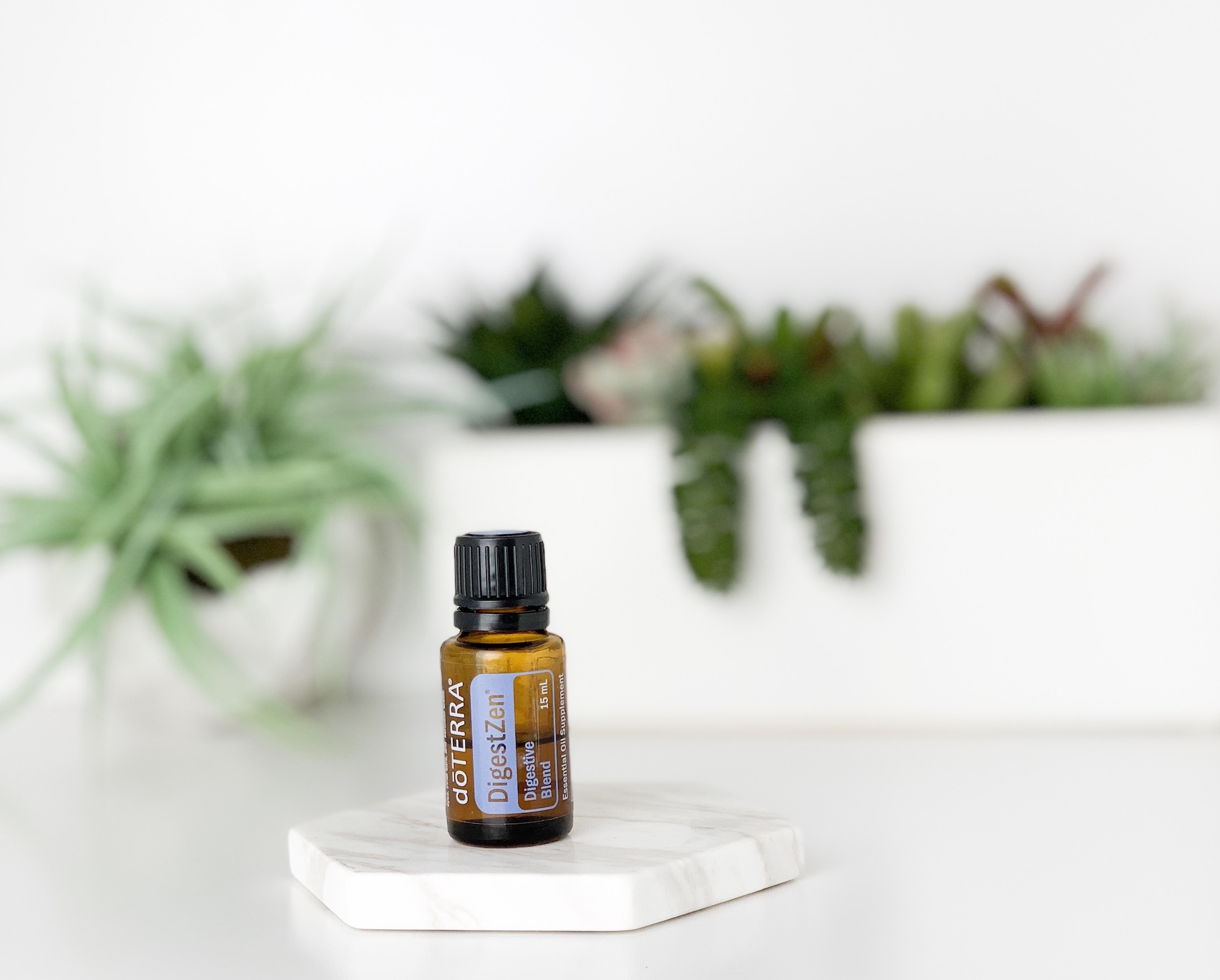 ---
Balance® Grounding Blend
doTERRA's grounding blend, appropriately named doTERRA Balance, offers a tranquil aroma suggesting harmony to the mind and body, and balance to the emotions. The warm, woody aroma of doTERRA Balance Grounding Blend creates a refreshing environment. We perfectly blend Spruce, Ho Wood, Frankincense, Blue Tansy, and Blue Chamomile with Fractionated Coconut Oil to offer an enticing fragrance that creates a tranquil and relaxing atmosphere. Spruce, one of the oils in doTERRA Balance, was used by Native Americans for health and spiritual reasons and is still used today to bring harmony to the mind and body.
Adds to a relaxing massage

Creates a calming atmosphere

When diffused, provides a tranquil aroma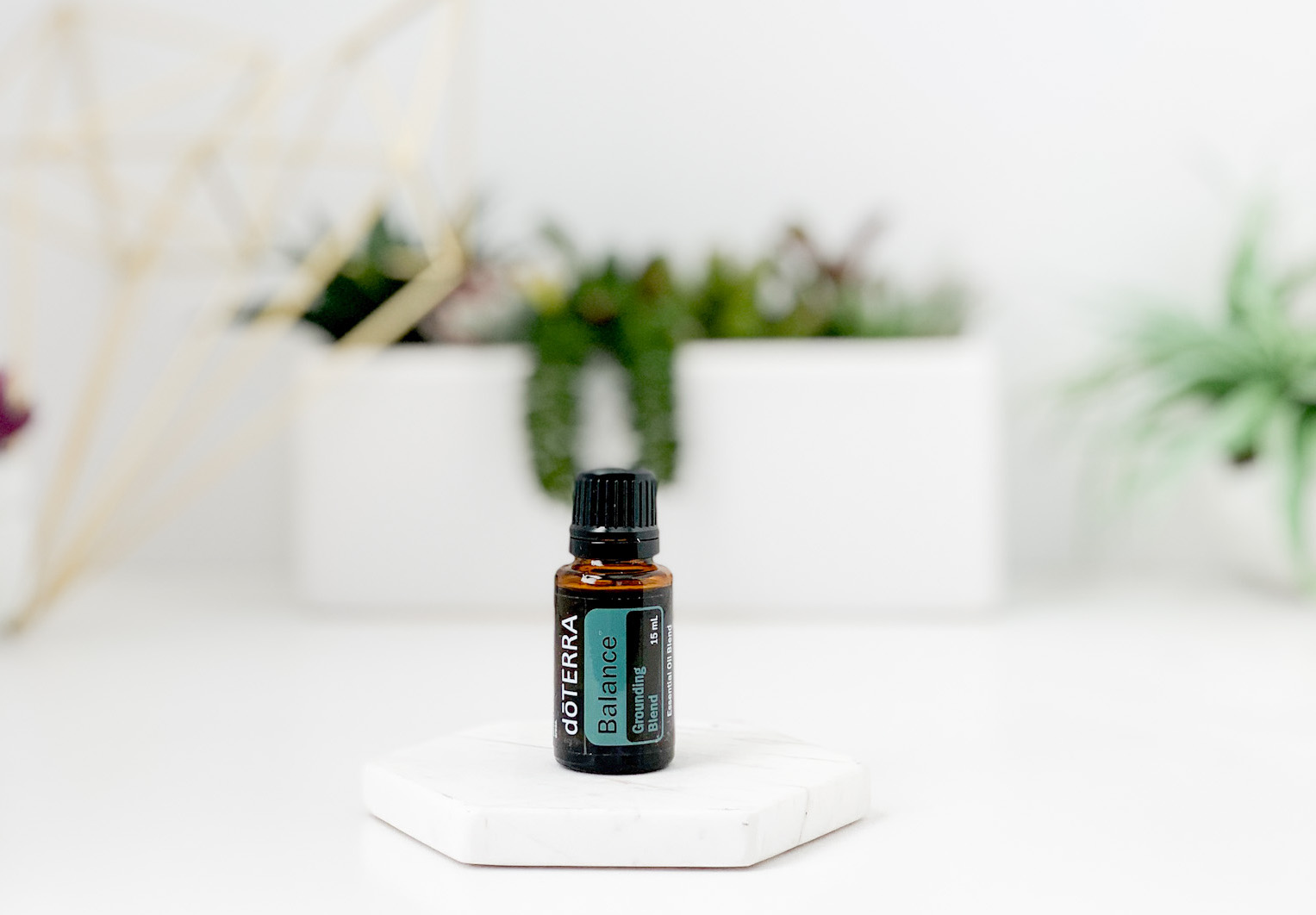 ---
Serenity® Restful Blend
doTERRA Serenity has a calming aroma that creates a restful environment at bedtime. Serenity has a calming and relaxing aroma that provides a unique user experience. This perfectly balanced, tranquil blend can be sensed immediately, transporting the user to a state of blissful repose. doTERRA Serenity combines essential oils renowned for their ability to create a restful environment at bedtime. Apply one to two drops to the hands and inhale throughout the day to help reduce life's daily stressors, or diffuse at night to help quiet a restless baby or child. The addition of Cedarwood, Ho Wood, and Vetiver essential oils gives doTERRA Serenity a grounding aroma that encourages a tranquil atmosphere when it's time to wind down. doTERRA Serenity can be used in conjunction with doTERRA Serenity Restful Complex Softgels. Diffusion of the doTERRA Serenity essential oil blend creates a relaxing environment while the softgels promote a restful night's sleep.
Creates a restful environment at bedtime

Calming and soothing aroma

Encourages a tranquil atmosphere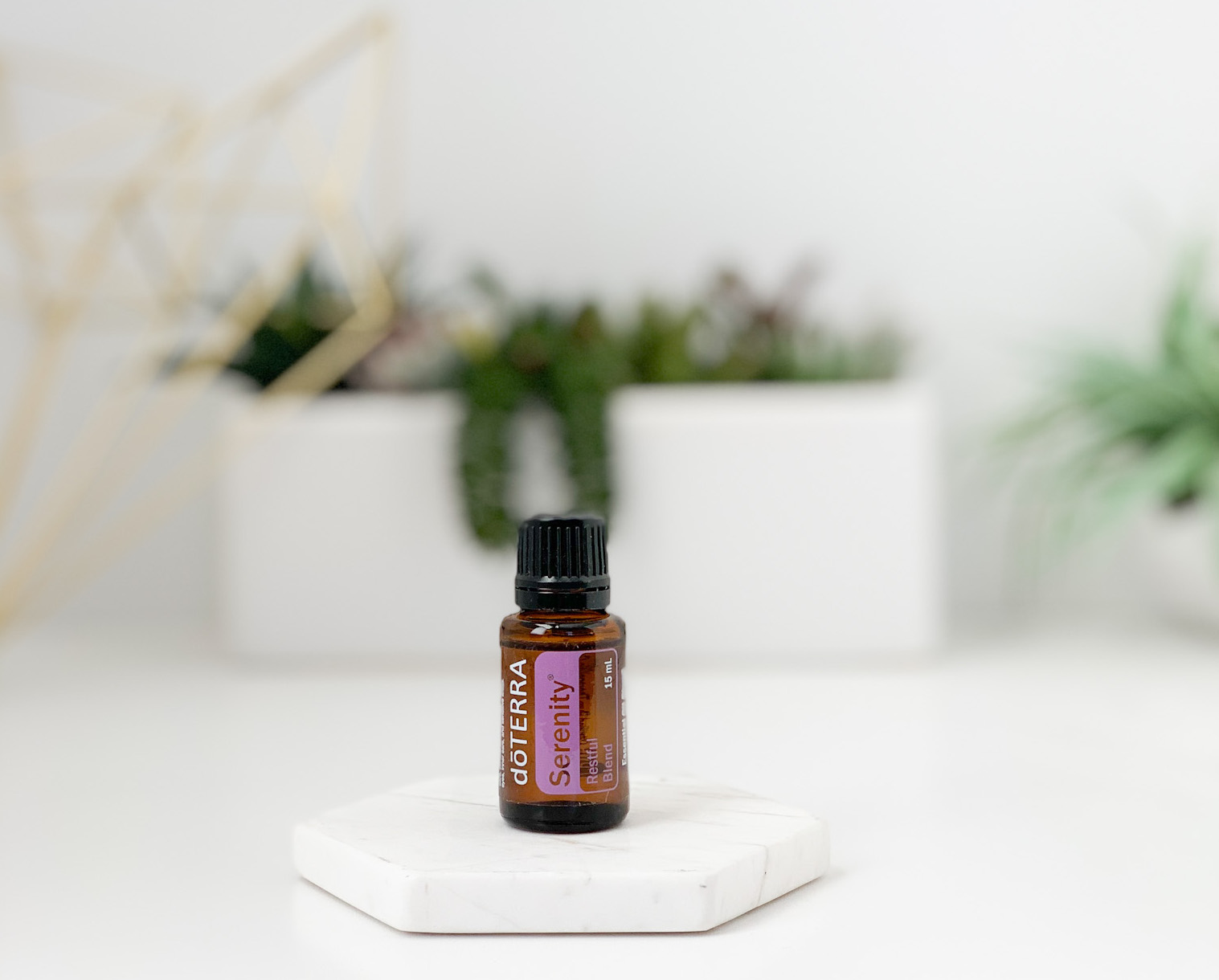 ---
Adaptiv™ Oil Calming Blend
Adaptiv Calming Blend oil is perfect for life's most stressful moments. Useful when a big meeting is coming up, or for other important events, Adaptiv Calming Blend helps improve sustained attention while easing the body and mind.
When stress and tension seem to be relentless, Adaptiv Calming Blend is the precise solution. Use Adaptiv to help get comfortable with new surroundings or situations. When a big meeting is coming up, or for other important events, keep Adaptiv Calming Blend on hand. In preliminary studies, the scent of Lavender, a main ingredient of Adaptiv, has been found to contribute to an environment conducive to performing tasks requiring sustained attention. Lavender, Magnolia, Neroli, and Sweetgum provide stress-relieving effects while Wild Orange and Spearmint energize and uplift. Copaiba and Rosemary soothe anxious feelings to round out the calming blend. Whether you're feeling fatigued or restless, indecisive or irritable, Adaptiv Calming Blend is part of the toolbox to help the body and mind to stay balanced. Use Adaptiv Calming Blend in combination with the Adaptiv capsules for synergistic results.
Helps boost mood

Complements effective work and study

Increases feelings of tranquility

Soothes and uplifts

Calming and relaxing aroma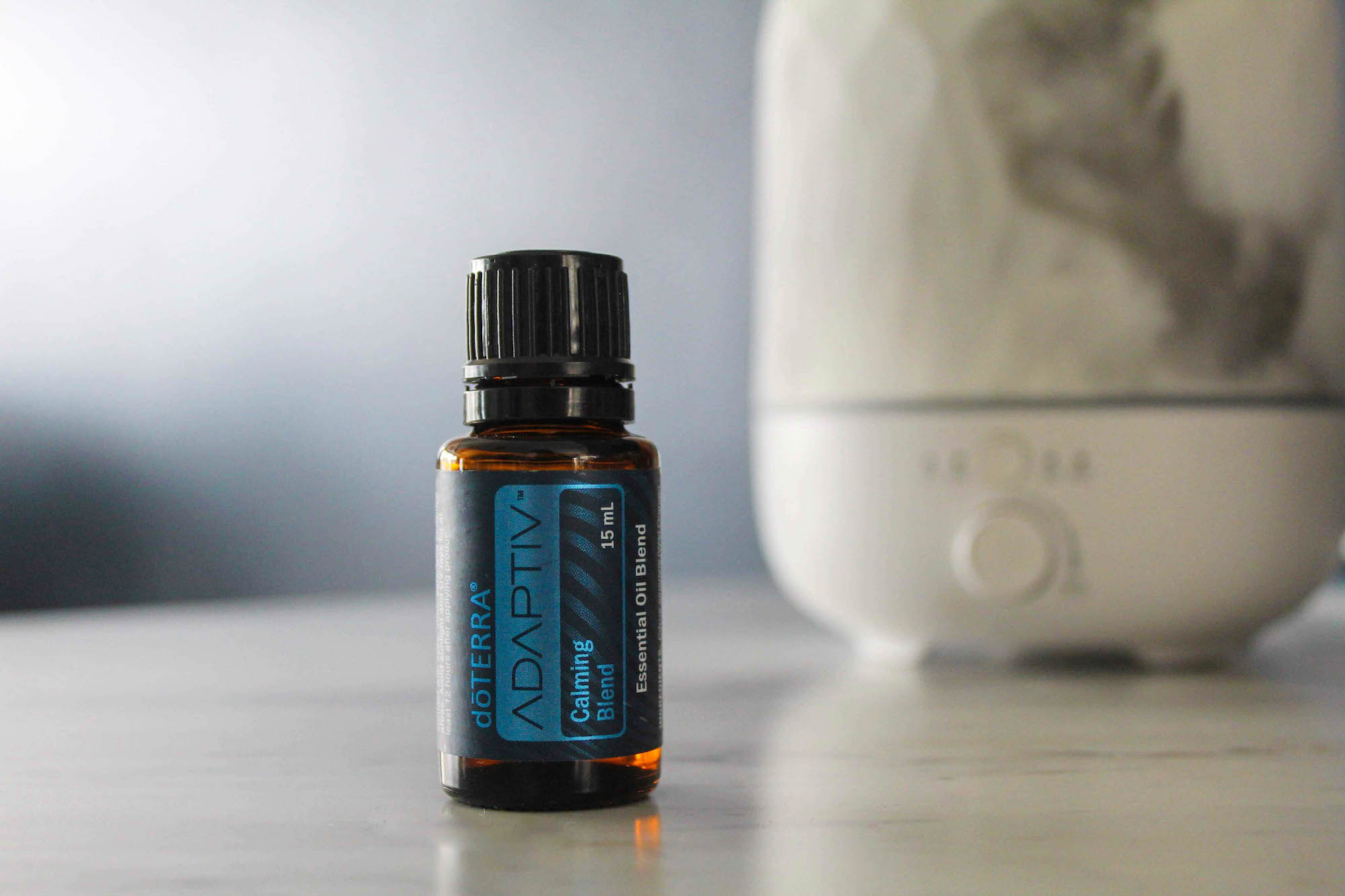 ---
Essential Oil Safety
Do not put oils in the eyes, ears, or nose.

Citrus Oils & ClaryCalm are photosensitive - avoid topical use 24 hours before sun exposure.

Always drink our of stainless steel, glass or ceramic when using oils. NEVER in plastic!

Dilute your essential oils with a carrier oil like Fractionated Coconut Oil (FCO)to ensure a positive experience.

Extra dilution for young children, the elderly and individuals with sensitive skin is highly recommended.

Standard Adult recipe for a 10 mL roller is ⅓ - ½ essential oil and top off with a carrier oil (FCO).
---
How Do I Purchase dōTERRA Products?
Get your own wholesale account FREE with any Reduce Price Starter Kit; OR choose a $35 option and pick your products (like a Sams Club or Costco membership).

Option to renew annually for $25 and receive a FREE 15 mL bottle of Peppermint essential oil with renewal.

Option to buy through the monthly wellness subscription box (Loyalty Rewards Program) and receive 10-30% additional back in product credits to be redeemed for FREE products, plus other amazing perks!