---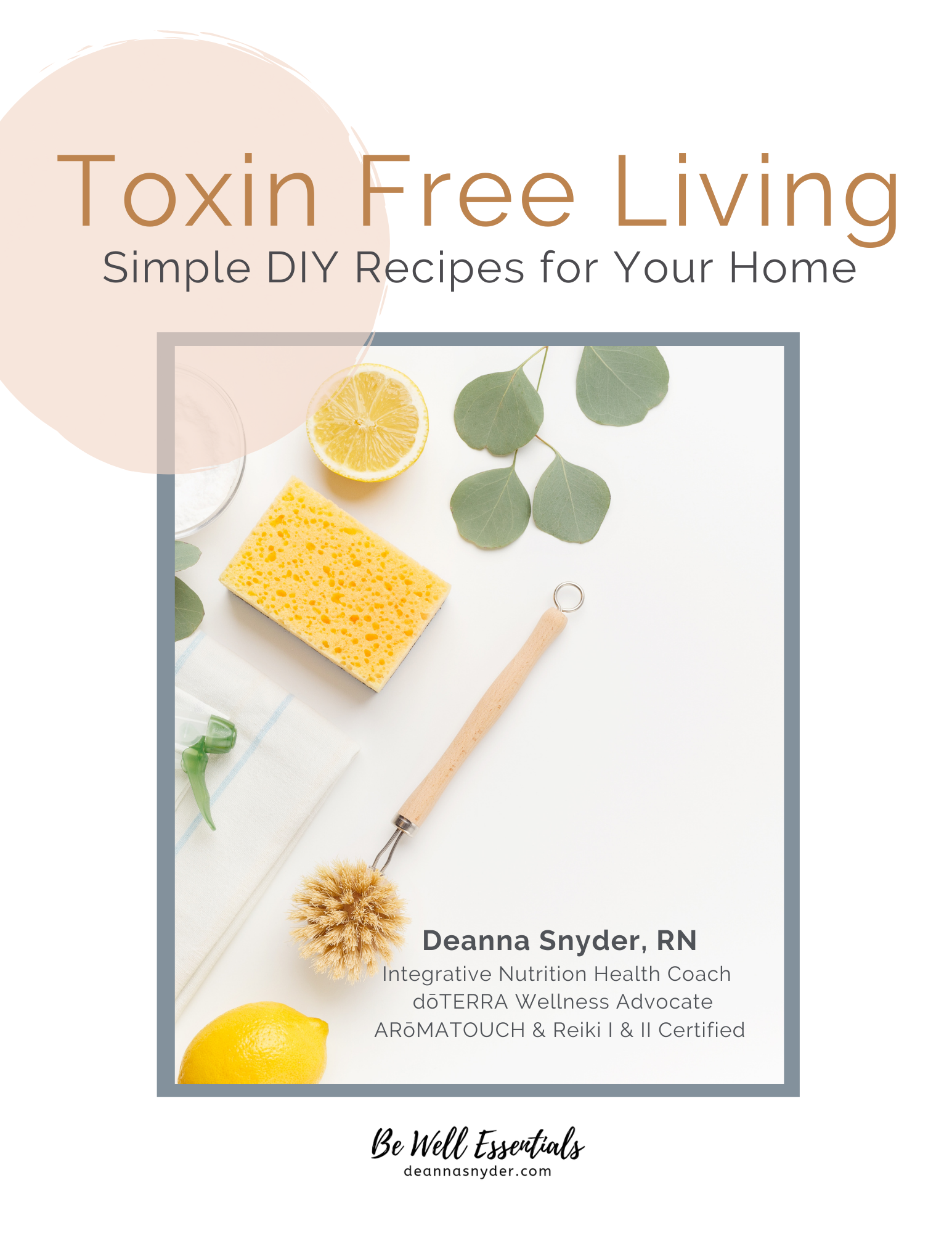 Toxin-Free Living
Simple DIY Recipes for Your Home
Reducing your toxic load is vital to your home environment and your overall health. Chemicals get into our bodies by breathing in toxic fumes and are absorbed through our skin. Most cleaning products on the market require you to wear gloves and/or mask to prevent harm. Many of these toxic ingredients are not covered by the Toxic Substances Control Act as they are outdated or grandfathered in.
TOP 10 Hazardous Household Chemicals:
Air Fresheners

Ammonia

Bleach

Carpet & Upholstery Shampoo

Dishwasher Detergents

Drain Cleaner

Furniture Polish

Mold & Mildew Cleaners

Oven Cleaners

Antibacterial Cleaners

Laundry Room Products

Toilet Bowl Cleaners
Toxic Chemicals Are Found In:
Plastics

Food

Soil

Water

Cookware

Mattresses

Upholstered Furniture

Cosmetic / Makeup

Household Cleaning Products

Self-care Products
Common Toxins:
Toluene

Chloroform

Methoxydiglycol

2-butoxyethanol

Carbon Tetrachloride

Bis (2-ethylhexyl) Phthalate

Eugenol

1,4-dioxane

Butoxydiglycol

Dibutyl Phthalate

Ethoxylate Surfactants

Butyl Benzyl Phthalate (BBP)
In this e-book, I share several of my favorite non-toxic household recipes.
List of ingredients
Diffuser Blends
All-Purpose Cleaner
Homemade Cleansing Wipes
Soft Scrub Cleaning Paste
Toilet Bowl Cleaner
Window Glass Cleaner
Wood Furniture & Floor Polish
Air Fresheners
Carpet Deodorizer
Dish Soap & Produce Wash
Powdered Laundry Detergent
Dryer Balls
Fabric Softener
Weed Be Gone
Indoor Bug Control
Bug Spray for Garden

---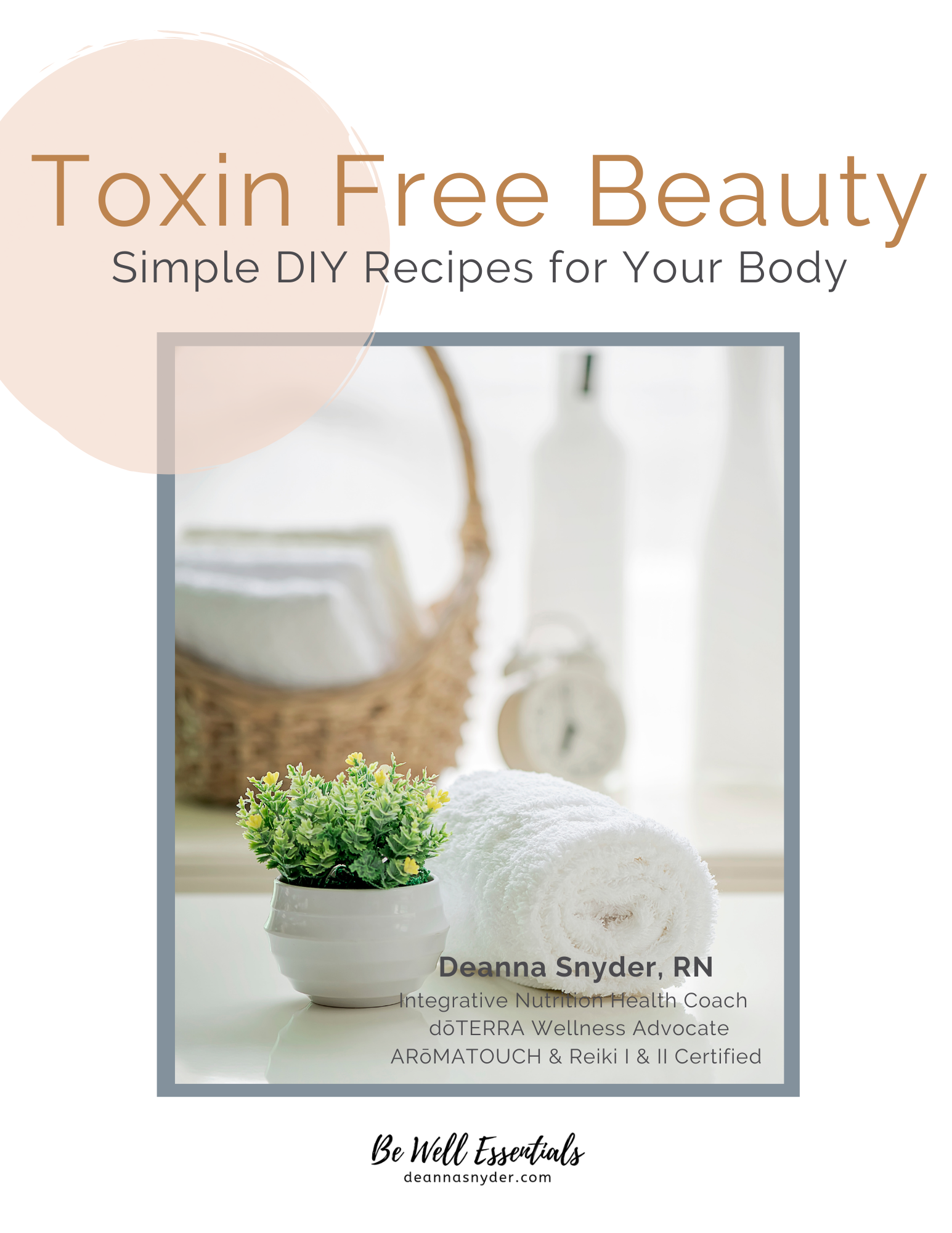 Toxin-Free Beauty
Simple DIY Recipes for Your Body
Your skin is the largest organ in your body. The skin consists of two layers: the epidermis and the dermis. The epidermis is what we see, feel, and touch. The dermis layer is below the epidermis and contains small blood vessels, nerve endings, oil and sweat glands, and hair follicles. The dermis also contains collagen and elastic tissue that keeps the skin firm and strong. Beneath the dermis lies the hypodermis and subcutaneous fatty tissue. The skin has three main functions: protection, regulation, and sensation.
Getting ready in the morning is one of the toxic enriched activities we can do to ourselves. Often times we shower with warm or hot water, doing this opens our pores and welcomes anything we put on our bodies. There are so many harmful chemicals in shampoos, conditioners, lotions, makeup, and other products we use. These harmful ingredients are absorbed into our bodies when we apply them to our skin.
Harmful Ingredients
Artificial Colors

Diethanolamine (DEA)

Formaldehyde Donors

Phthalates

Propylene Glycol

Polyethylene Glycol (PEG)

Sodium Laureth Ether Sulfate (SLES)

Sodium Lauryl Sulfate (SLS)

Toluene

Triethanolamine (TEA)

Coal Tar (FD&C Red No. 6) has a "CI" followed by a 5-digit number

Ethoxylated Surfactants

1,4-Dioxane (anything containing the letters "eth")

Parfum / Fragrance

Hydroquinone (used for lightening skin)

Lead

Mercury

Mineral Oil / Petroleum

Oxybenzone

Parabens

Paraphenylenediamine (PPD)

Placental Extract

Silicone-derived emollients

Talc

Triclosan

BHA & BHT

Dibutyl Phthalate

Siloxanes or Methicone
In this e-book, I share several of my favorite non-toxic personal care recipes.
We are all unique and have our own chemical makeup that reacts with what we put on and in our bodies. Discover what essential oils that can enhance your Beauty Care, Kids, Toxic Load Reduction, Eating Right, Lifestyle, Informed Self-Care, Exercise, Mood Management, and Sleep. We have solutions for you!